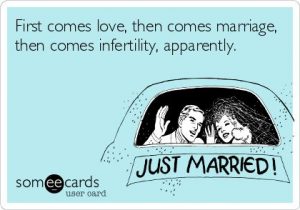 My husband, Jeff, and I met in 2006 and married  in 2007.  We recently celebrated our 10th Wedding Anniversary.  We have a wonderful, fun, and strong relationship. We have seen the world together, traveling to over 30 countries: we have swam with sharks in Tahiti, snorkeled the Great Barrier Reef, cycled through Europe, surfed and sailed in 3 continents, helicoptered, and hot ballooned.  I feel very grateful for the adventures we have had. But we both dearly want to have children and have spent over half of our marriage on a journey to become parents.
In 2012, after a year of trying to conceive with no success, we sought medical help from an OB/GYN.  After several tests and procedures for us both and finding everything 'normal', we were later referred to a Reproductive Endocrinologist (RE) at Reproductive Care Center (RCC) in Sandy, UT, in 2013.  Further testing with 'normal' results, was followed by months of Clomid/Femara, then four unsuccessful Intrauterine Inseminations (IUI), followed by four egg retrievals, and four In Vitro Fertilizations (IVF) – two fresh and two frozen embryo transfer (FET) cycles.  We transferred a total of seven embryos during these IVFs and never got pregnant. We had one embryo remaining (which was later tested and confirmed normal/genetically viable).
At this time, the end of 2016, we looked for help from a different RE, at the Colorado Center of Reproductive Medicine (CCRM).  Here we completed two further egg retrieval cycles (which resulted in an additional five genetically viable embryos). Using two of these embryos we completed a further two IVF cycles (our 5th and 6th respectively). We became pregnant both times, but miscarried at 9 weeks.  We remain a mystery to the doctors with a frustrating diagnosis of 'unexplained infertility'.
With four genetically viable embryos remaining and no idea why things are not working both my OBG/YN and RE have suggested using a surrogate to carry one or more of these embryos.  It took me a little time to mourn the loss of being able to carry my own children and to wrap my head around using a surrogate, but we are now excited for this next step.
Over six years in and it has been quite the journey!  Between my doctors and other health practitioners we calculated that to date I have had about one hundred appointments and taken thousands of medications and injections.  We are still on our path to reaching our goal.  We are trying to stay strong and positive, and learn what we can throughout the process.
For my posts on infertility, see here:
I stand in front of the mirror and look at my reflection, turning this way and that, imagining a soft swell in my belly.   I gently press my hand there and move it in small circles, willing our baby into existence.  Rubbing and wishing, like one would for a genie in a lamp.  Could it […]
0 comments